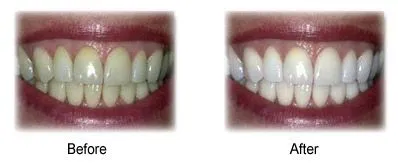 What Is The Teeth Whitening Process?
It is a simple procedure

Impressions of your upper and lower teeth are made. From these impressions, We make custom fitting teeth whitening appliances.
You are fitted with the appliances , which are clear and very hard to detect at a distance. You will be given a professional whitening system and personalized instructions about how to use it.
To keep your teeth free from tartar and plaque, you and your dental professional will plan the proper homecare regimen in order to keep your smile looking good for a lifetime.
Interested in a teeth whitening procedure? Contact our Tampa, Florida, office to schedule your consultation.
Is it safe To Whiten Your Teeth?
Yes. Whitening your teeth, under the supervision of your dentist, has been proven safe in clinical studies over a period of many years. The primary ingredient in opalescence is carbamide peroxide, which has been safely used to brighten the smiles of millions.
How does it work?
We, at Agoka Dental, will take impressions of your teeth that will allow for custom trays to be made for your bleaching procedure. The opalescence gel is placed in these thin comfortable trays and fitted over your teeth. As you whiten your teeth, carbamide peroxide is broken down and oxygen enters the enamel and dentin. This bleaches out the discolored areas. The structure of the tooth in not changed. The color of the tooth is simply made lighter.
Note: At Agoka Dental, We almost always prefer to fabricate the trays with reservoir space in front of the teeth. By incorporating this technique, most of our patients whiten their teeth to their desired color in as little as five nights.
Are there any side effects?
There are a small number of people that could experience increased sensitivity to hot or cold during the whitening process. This is temporary and can be treated with ibuprofen or another product your dentist may have. The sensitivity will normally go away within the first 48 hours after the whitening process is completed.
Home Teeth Whitening
We'll make impressions of your teeth, and from these impressions we'll make a model on which we create a custom teeth whitening tray. You'll put the prescribed amount of the gentle whitening solution in the trays, then insert them and resume your normal activities. or retire for the evening.
Long Lasting Results
Oxygen in the gel penetrates the enamel and removes most of the discoloration. Since enamel is transparent, the newly whitened inner tooth will show through. The results last one to five years, depending on your lifestyle, and may need periodic touch.