Agoka Dental offers Cosmetic Dentistry
Smiling feels great, whether you are on the giving or receiving end. But too many people hide their smiles because they are unhappy with the way their teeth look. That's a shame because these days, there's so much that can be done to enhance a smile and boost self-confidence in the process. Let's take a look at some of the most common cosmetic dental procedures and how they can give you the smile you've always wanted.
Dental Veneers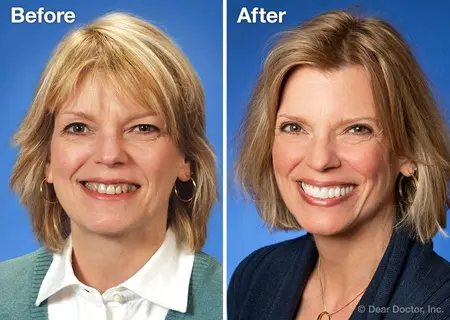 Dental veneers are thin, custom-made coverings for the front surface of your teeth. Besides whitening your smile, veneers can also be used to lengthen worn-down teeth, repair small chips and even correct minor gaps and irregular spacing. Getting veneers usually takes two appointments: the first to prepare the teeth and take an impression (using either a 3-D digital scanner or a physical mold), and the second to actually attach the veneers after they are custom-fabricated. The high-tech materials used to make today's veneers are amazingly lifelike.
Dental Crowns
Tooth-colored crowns are made of lifelike high-tech materials and blend in beautifully with your natural teeth. A crown covers the entire tooth from the gum line up. Crowns are used when the root portion of the tooth is healthy, but most of the visible portion is damaged or structurally compromised. A crown usually requires two dental appointments. At the first, the tooth is shaped to fit inside its new covering, and then an impression (a digital image or physical mold) is made so that the crown can be custom-made. At the second appointment, the crown will be cemented onto the tooth, and any final bite adjustments will be made.

Orthodontics
Straightening crooked teeth is a great way to enhance a smile — and orthodontics has no age limit. As long as your teeth are healthy and you are free of periodontal (gum) disease, you can undergo orthodontic treatment to move your teeth into a more pleasing alignment. This can be accomplished with a variety of orthodontic appliances but these days, many adults and older teens opt for clear aligners instead of traditional braces. Clear aligners are a series of removable clear plastic "trays" that are virtually invisible.
Tooth Replacement
Missing teeth can make a person very self-conscious; they can compromise your health and quality of life. It's harder to eat nutritious, balanced meals when you don't have all of your teeth. Spaces from missing teeth can also lead to shifting of the remaining teeth, which can throw off your bite and cause other dental problems. There are three ways to replace teeth:
Removable Dentures
These are the traditional "false teeth" that you take in and out of your mouth. They can be a partial or complete set. They are relatively inexpensive compared to other tooth-replacement options, and are more natural-looking than ever. Wearing them, however, can take some getting used to — and they won't feel exactly like natural teeth.
Fixed Bridgework
Healthy teeth on either side of a gap left by a missing tooth can be used to support one or more replacement teeth. For example, a single missing tooth can often be replaced by a three-unit bridge, made up of one natural tooth on either side of the empty space, and a replacement tooth (referred to as a pontic) in the middle. Bridgework is comfortable and lifelike, but can make oral hygiene more challenging. This, in turn, increases the risk of tooth decay or root-canal problems in the teeth used as supports.
Dental Implants
Today's state-of-the-art tooth-replacement system, dental implants are small titanium posts that substitute for natural tooth roots. The implant holds a lifelike dental crown in place for a replacement tooth that looks and feels completely natural. The initial cost of dental implants is usually more than other options, but implants last the longest and have no adverse impact on existing natural teeth; this often makes them the best overall value for the long term.
With all the remarkable technology available to enhance the appearance of teeth, there's no reason to go through life with a smile that doesn't make you feel good about yourself. If you have teeth that are dull, discolored, worn — or even missing altogether — ask us how cosmetic dentistry can help restore your smile, and your confidence.